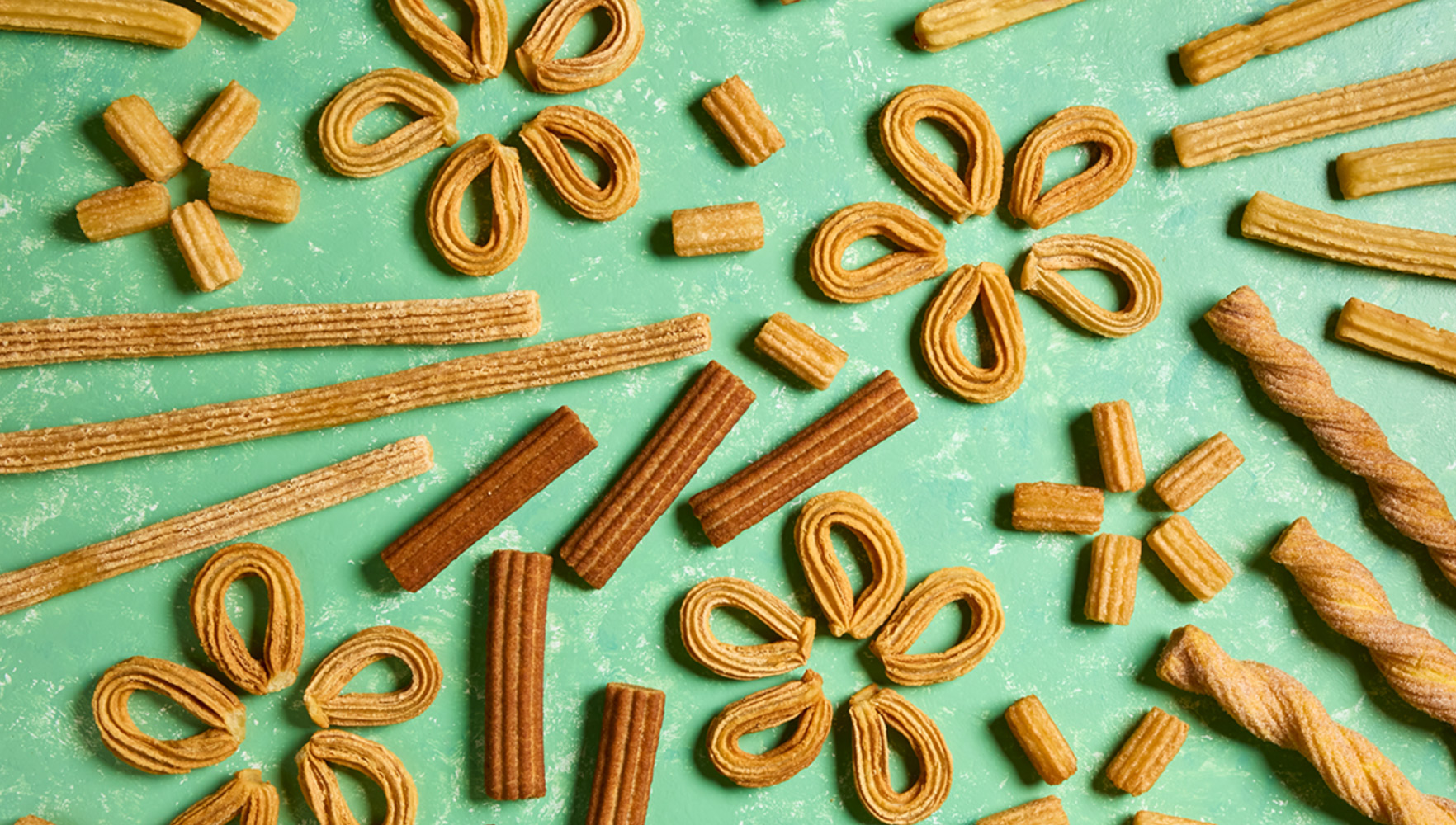 31 Mar

The Best Bet for Menu Success Since the Cookie

To make such a declaration is a bold one. Yet, ¡Hola! Churros™ checks more boxes for menu success than the century-old cookie. Here's why.
Versatility
When it comes to menu versatility, churros are at the top of the list. As a confection, churros are typically tossed or sprinkled in a cinnamon sugar that spells instant delight, but that's just the start. Operators can create their own interpretations that make them dip sticks for dunking, sprinkled with everything from Dippin' Dots® to colorful breakfast cereal, or dredged through caramel or chocolate. Churro bites are likely the most versatile for using as toppings over ice cream, shakes, and more.
Churros are right for any daypart. From breakfast to a late-night snack, these versatile treats are ideal for any menu and any segment in the foodservice industry. The options are practically endless.
But unlike a cookie, churros can serve as a uniquely shaped base for everything from the centerpiece of a charcuterie to a spicy delight when sprinkled with a spicy dry spice for a BBQ or burger side. Some operators even explore "loaded churros", but sweet or savory as an alternative to loaded fries.
Best of all, operators can leverage their existing pantry for adding their own special touch to their churros. ¡Hola¡ Churros, in their many shapes and even fillings definitely wins when versatility is a key factor.
Is It Trend Worthy?
No snack or dessert is trending higher than churros. Checking the box as a mini-dessert, dessert, breakfast dessert or snack, churros are globally inspired that offers special interest for Gen Z and Millennial customers and their children.
While churros hold a 10-point lead among all competitors within the dessert category, there is plenty of room to grow. While cookies are ubiquitous on nearly 42% of all menus according to Datassential, an operator choosing churros can set their menu apart from the rest, no matter their cuisine.
Easy To Prep? Check. Transportable? Check.
Labor remains a daunting challenge. ¡Hola! Churros makes prep easy. Par fried and ready to be heated in fryers, baked, or air fried, these churros can be prepared in minutes.
¡Hola! Churros come in a variety of shapes and styles depending on the intended use. The offering includes two styles. An Authentic Spanish Recipe style offers a cake-like experience while the Crispy Southwest Recipe has a crunchy outside and light and fluffy interior.
The special formulation of ¡Hola! Churros makes them ideal for takeout, delivery, or catering. These churros have amazing holding times to offer a warm delight for dine-in or takeout applications.
What About Supply? Check.
¡Hola! Churros are a J&J Snack Foods brand. The company is a total solution provider for frozen beverages and snacks ranging from ICEE® to SuperPretzel® an Dippin' Dots®. Thus, ¡Hola! Churros come from a leader with a new, expanded production lines to produce churros. J&J production facilities are located across America, reducing shipping times and assuring delivery.
Did We Check the Boxes?
¡Hola! Churros are versatile, trend worthy, easy to prep and always ready for your next menu. We will throw one more consideration-they're very profitable. According to Datassential, average menu prices nationwide make churros extremely profitable.
If you are ready to explore how ¡Hola! Churros can make an impact on this year's sales from your menu, request your free sample now by providing us with your shipping information.