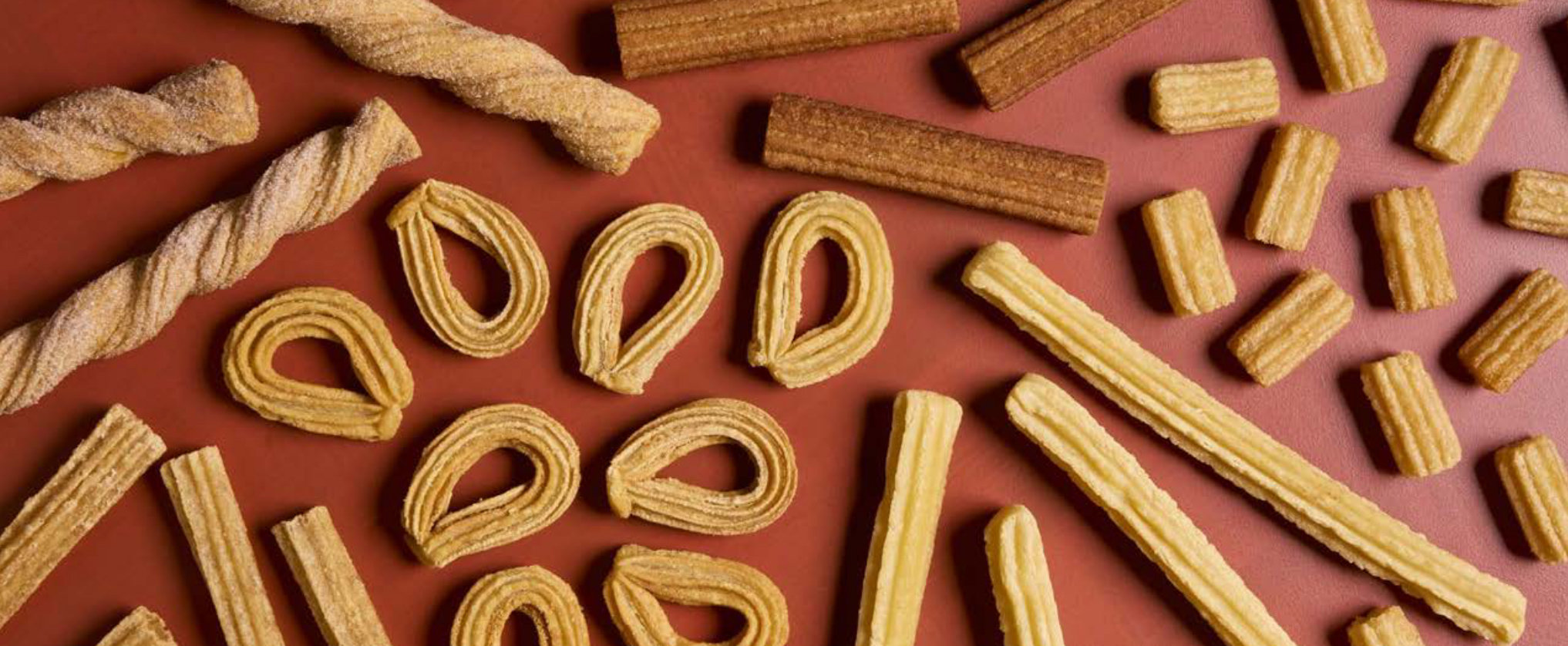 30 Jan

J&J Snack Foods Launches ¡Hola! Churros™ Brand to Foodservice Operators
Brand Launches As #1 In Fastest Growing Dessert Category
(Bellmawr, NJ) – Launching as the number one brand in the rapidly growing mini dessert category, J&J Snack Foods' new ¡Hola! Churros™ proves the company's prowess as a snack and beverage leader. With expanded production now in operation, foodservice operators are assured a steady, reliable supply of a variety of churros for the new year.
"¡Hola! Churros provides operators an easy solution for offering crowd-pleasing snacks and desserts," says Norma Jean Abbattista, J&J Snack Foods Senior Director of Marketing – Foodservice. "According to Datassential, churros have grown by 147% in the past four years as a mini-dessert and are the fastest growing dessert overall."
The new ¡Hola! Churros brand strengthens J&J Snack Foods' existing leadership position among churro manufacturers by combining the best of two legacy brands. The new brand reduces operator confusion and elevates the options for unique menu applications as an easy to prepare snack, dessert, or breakfast item. Available in loops, regular churros, and bites, operators can choose a variety of flavors or sweet fillings.
"Snacking occasions continue to grow as sales opportunities between main menu dayparts, and ¡Hola! Churros offer a tremendously easy opportunity," Abbattista says. "Our churros can be air fried, deep fried, or baked in minutes and can be very creative carriers of flavor with dips, glazes, sprinkles, and drizzles added by operators to customize their menu offering."
¡Hola! Churros fulfill the growing demand by customers for globally inspired menu items that are sharable and hold well for takeout, delivery, or catering. Churros have grown as a breakfast item by 25% according to Datassential.
The new ¡Hola! Churros brand joins SuperPretzel ®, ICEE®, Dippin Dots® and other beverage, bakery, and niche snack brands, providing foodservice operators a total solution for beverages and snacks.
Operators can learn more about ¡Hola! Churros at Churros.com or download an Ideas Guide for their menu and request free samples at Churros.com/Ideas-Guide.
---
About J&J Snack Foods
J&J Snack Foods Corp. (NASDAQ: JJSF) is a leader and innovator in the snack food and frozen beverage industry. For over fifty years, the company has specialized in delicious snack and beverage brands for the foodservice and retail segments, serving up fun across the U.S. market. J&J Snack Foods' core brands include SUPERPRETZEL, the #1 soft pretzel brand, ICEE and SLUSH PUPPIE frozen beverages, and Dippin' Dots, the original beaded ice cream. The company's broad brand portfolio also includes LUIGI'S Real Italian Ice, MINUTE MAID* frozen ices, WHOLE FRUIT frozen fruit bars, DOGSTERS ice cream style treats for dogs, ¡Hola! Churros, THE FUNNEL CAKE FACTORY funnel cakes and fries, and bakery brands including MARY B'S, DADDY RAY'S, COUNTRY HOME BAKERS, and HILL & VALLEY. For more information, please visit http://www.jjsnack.com.
*MINUTE MAID is a registered trademark of The Coca-Cola Company
**SOUR PATCH KIDS is a registered trademark of Mondelēz International group, used under license